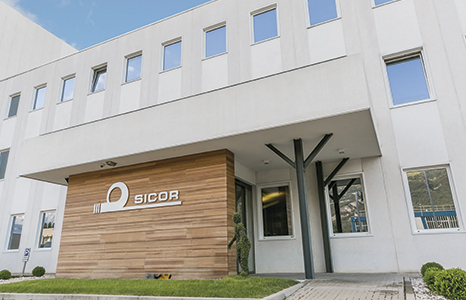 The company SICOR was set up in 1981 in Rovereto, near Trento, in the North-East of Italy, as a manufacturer of elevating devices and components for lifts.
Since its foundation, the company's business development has been characterized by strong international inclination and aptitude towards innovation and customer care, accompanied by stronger attention to product and service quality.
Over the years, a constant process of research and development has been in full swing, leading the company to implement its product range to meet ever growing market demands.
Today Sicor offers its customers a wide range of options between traditional gearboxes and gearless motors, suitable for the most specific and particular applications. In 2013 the company inaugurated their new industrial plants, which cover an area of 21,000 sq. m, furnished with the most modern, efficient technical/production facilities. Automation, speed and precision enable high quality products to be supplied in a short time, meeting ever faster market demands.
Since 1983, we have operated in the lift sector, producing rope traction systems for the vertical transport of people and goods. Every day we are glad to offer top-quality products with a flexible service to each one of our customers.
At SICOR, we like to tackle every problem in an open and honest way. Our work is characterized by high moral integrity and maximum transparency. At our plants, in Rovereto, we produce a wide range of products, designed to offer advanced, safe solutions for any type of lift systems.
Our innovation history.
We are strongly determined to continue operating on the leading path to development and growth. That's why we invest every year in innovation and design, so that our partners can be sure of more reliable and efficient products. Vocation for the "international business" with a strong inclination for markets all over the world, have lead us to the development of the most flexible and widest range of machines, suitable to meet any vertical transport demand.
Some data about us.
• Production capacity of more than 35,000 machines per year.
• The MR12 model, with more than 400,000 units installed, is the most demanded product of its own category.
• We constantly serve over 350 customers.
• We work in more than 60 countries worldwide.
• We have been chosen as suppliers by the top 5 multinational companies in our sector.
• We, as a company, are 30 years old.
The enthusiasm and energy which we put on each one of our customers continue to grow.
International vocation, moreover, is deeply rooted in our own region.
SICOR cable traction systems are entirely designed and assembled in Italy. This allows us to offer customers maximum control over production quality. For the supply of raw materials, Sicor relies on a large network of over 200 Italian-based and foreign suppliers.
Contact at info@sicor-spa.it