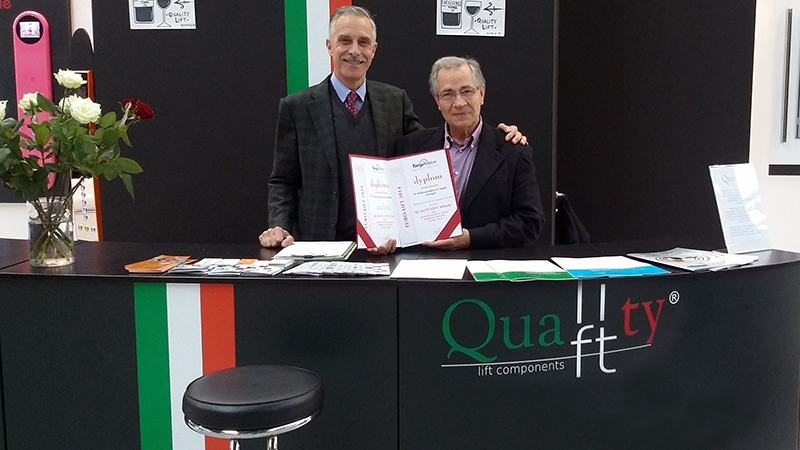 QUALITY LIFT is a business brand which puts together Robertelli's 60 year-long field expertise and Teledif Italia's 20 year-long technical knowledge, in order to provide Italian as well as foreign lift operators with reliable, top quality products designed and manufactured in Italy.
QUALITY LIFT was founded with the firm belief, shared by the two partners Mr. Gianni Robertelli and Mr. Aurelio Di Gregorio, that cooperation is the only business way which any modern company, projected into the future, should undertake, since it is definitely through network agreements and partnerships with professionals of the sector, possible to share the right expertise in order to guarantee customers with top quality products bearing competitive prices.
In recent years, very important trade journals in our sector, such as "ELEVATION Magazine", "ELEVATOR World" and the Italian magazine "Sviluppo Impresa", have dedicated editorial space to our initiative.
QUALITY LIFT has been regarded as "a de facto family against the economic crisis". "The Italian style conquers the 3rd EURO-LIFT international trade fair event", was written about us on the occasion of the prize received by the organizer of the Kielce trade fair in Poland in 2014.
Today, following the setting up of the corporate group of companies CMA&PARTNERS, we have finally laid the foundations of our business idea.
TELEDIF ITALIA

Teledif Italia is a leading company in the design and production of electronic equipment for telecommunications and lifts.
Founded in 1993, following the initiative of a group of highly experienced professionals, it first established itself in the phone market with telephone messaging and put-on-hold devices, and then expanded its field of activities in the sector of remote assistance systems for lifts, and software for the management and monitoring of lift alarm communications.
With the firm belief that safety begins with monitoring, we have developed DEDALO 72-hours, a cloud computing application that optimally monitors the 72-hour TEST and the technical alarms generated by the lift emergency telephones of any brand and model.
To see our product range and download free manuals and technical/commercial documentation, please, visit our website www.teledif.it

ROBERTELLI ARDUINO

Robertelli Arduino is a historic manufacturer of lift components, specialized in button panels and door locks.
With over 60 years of activity behind it, they are one of the longest-lasting companies in the sector, offering today a wide range of elegant and innovative products on the market, ideal for the renovation of plants. Pushbuttons, standard or customizable push-button panels, led-displays, TFT LCD touch screens, keypad or transponder door access control systems, electronic boards for serial communication, lock replacement kits, spare parts, are some of our product range shown on our company's website www.robertelli.com.
The overall internal design capacity (mechanical/electronic/software), supported by a wide knowledge of the "lift mechanism" and a mission that has always focused, in first place, on "the closeness to the customer", allow us to propose ourselves to the lift industry as a partner able to solve problems, with our products and solutions.
Contact at teledif@teledif.it or info@robertelli.com